Sports bras are critical to your comfort, health and well being when exercising vigorously or playing sports. But just as important as wearing a sports bra when undertaking physical activity is that you wear the right one.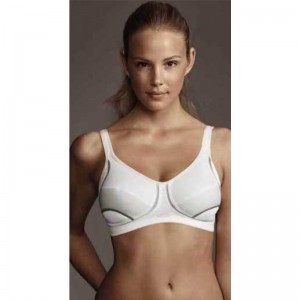 Follow these tips to ensure you choose the sports bra that is right for you and your needs:
Get a bra professionally fitted. Statistically, seventy five percent of women wear a bra that is the wrong size for them. Whether by accident or intentional size denial, so many of us have it all wrong. Would you wear a shoe in the wrong size? No. So why wear the wrong sized bra? Considering the cost of this essential wardrobe staple, why not at least find out what size you should actually be wearing?
Try your bra on before committing. Tiny quirks in design can make a big difference – so you may well wind up with a drawer full of bras in slightly different sizes. And they all fit properly. Additionally, some bra designs are better suited to particular body (and breast) shapes than others. So always try first. If you purchase online – make sure there is a return policy, that you try on just after a shower (when you are clean and deodorant/perfume free), and don't remove tags until you are sure.
When shopping for a sports bra, consider your impact level. What kind of sport will you be doing? Low Impact activity includes walking, yoga, or road cycling. Medium Impact activity includes hiking, skiing, and skating. High Impact sports include running, aerobics, and mountain biking. There is a bra suited to each impact level.
The point of a sports bra is to minimise breast movement. The ligaments that support the breasts do not bounce back when stretched – sports bras protect the breast anatomy. This is done in a number of ways:
Compression Bras – compress the breasts against the chest wall in order to restrict movement. Best for A and B cup sizes. Encapsulation Bras – support the breasts individually and separately with individual cups, without the use of compression. Best for D and DD cups and larger. Compression/Encapsulation Bras – combine both the above mentioned methods for support and comfort, and are ideal for C and D cup sizes.
The perfectly fitting sports bra will achieve the following:
Fit tighter than a regular bra but not uncomfortably tight
Will not chafe at the seams, straps or armholes
Straps are wide and do not dig in
The band at the ribcage should remain in place when arms are raised above the head
There will be no wrinkles or puckers in the cups
It will stand up to the test: jump in place. Does it feel supportive?
How do you know when it's time to retire that old sports bra?
It fits more loosely than before
Vertical movement has increased
Fabric has begun pilling
The care instructions have become invisible.
Most sports bras have a lifespan of 6-12 months.