Maternity Undies – Do You Need Them?
When you're expecting a baby, your life changes in many ways. Your body shape is different, and we don't just mean your belly. Most women gain weight in other places too. It's exciting to wait for a little one and fun to buy new, special clothes. But what about underwear?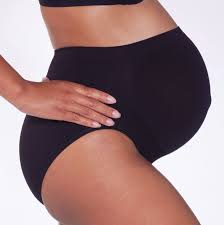 Some women opt to purchase a larger size of their preferred panties, thinking that it's only for a few months. While this can work for the early weeks, it can get quite uncomfortable as your pregnancy progresses. Your body is not just gaining a size or two, it is altering its shape. Regular panties are not designed for the new you. They do not adjust with you as your baby grows, as our Cantaloop Over Tummy briefs do. Pregnancy underwear is made to be ultra-comfortable at a time in your life when you need it the most. They provide support with under belly ribbing, a feature that you will be grateful to have, especially in your third trimester. If this is not your first baby, you will remember how much that belly weighs. The support is also beneficial for your back as that is an area that is strained by your new figure. Back pain is a common complaint. Panties that cut into your legs are a definite no-no, as they can stop blood circulation and encourage varicose veins.
For the ultimate support and maximum comfort, check out our Cantaloop Support Belt. It is particularly welcome for the mum-to-be who is carrying a large baby, or the one who works standing a lot. Second (and subsequent) pregnancies are usually more demanding on your body, as the skin stretches more easily. Plus you have another youngster to care for! Treat yourself to comfort that you will love.
When it comes to bras, women are divided between those preferring wired and those liking the wireless type. At Undiewarehouse, we offer the most comfortable maternity bras. While wireless, they offer awesome support. Our "Barely There" cotton bras are made of soft, breathable fabric that you will love to wear. The adjustable straps are padded as is the hook and eye panel. The seamless cups make this bra almost invisible. With its easy nursing clip, this bra will serve you not only during, but also after, your pregnancy. It is so comfortable that it will be your favourite. Available in white, black, and soft powder, you will always have the perfect bra to wear.
If you're due to give birth during the colder months, consider our nursing camisoles and singlets. They keep you warm, even when feeding baby and provide cosy comfort.