Summer has, for a long time, been all about bare, tanned legs. Just a couple decades ago, the only people we would see donning pantyhose in summer – especially flesh tones – were grandmothers and middle aged women who would best be described as "frumpy". Stockings were deemed to be old fashioned and anything but sexy. But times have changed - a lot. Sheer pantyhose are very much in style, their resurgence as a fashion staple over the last few years is almost unprecedented. And we may well have one person to thank: Kate Middleton, the Duchess of Cambridge.
The Duchess, who is undoubtedly Great Britain's foremost style ambassador of today, is rarely seen bare legged. She favours, even in the height of summer, sheer, almost invisible pantyhose – it's not always obvious she's wearing them, but be assured, they are there.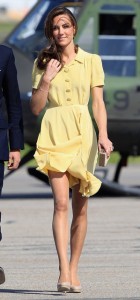 This writer was a teen in the late 1980s and early 1990s. My mother made me wear pantyhose ("LADIES don't go out with bare legs") – at a time when they were anything but fashionable. The idea of wearing flesh coloured hose into my twenties and beyond made me cringe. But now, in early middle age, even I am converted to the benefits of a sheer and stylish pair of hose. Put simply, sheer pantyhose are classy and elegant. They are grown up – but not old fashioned. Having the option to wear them, means the choice to do so can be appealing. Wearing pantyhose with a dress or skirt looks "put together".  Whether a matte or sheen finish, a pair of subtle hose makes legs look much better too – hiding such abominations as bruises, shaving nicks, minor varicose veins (which even twenty year olds can have) and disguising a lily-white or dry complexion. There is no need for a smelly, messy fake tan when the right sheer hosiery is chosen.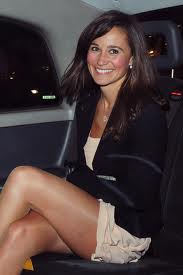 While there's always a place for bare legs on casual days, leg wear gives a polished finish to a smarter look. There are some hard and fast summer hosiery rules. Make sure:
Leave white stockings for bridal wear. White stockings just aren't sexy – or particularly flattering.
Go for sheer nudes, to look as natural as possible. You want observers to look twice before knowing whether you're wearing hose or not.
Don't go for too dark a nude shade. It will just have the effect of a tandoori tan. Natural natural natural is the effect you want to achieve.
Black is for winter – embrace the new season and leave the dark colours and opaques for cold weather.
NEVER wear toed hosiery with open toe shoes! This just screams great auntie in her orthopaedic sandals! If you're going to wear sandals, and you want to wear pantyhose, go for toeless hose.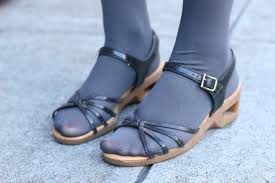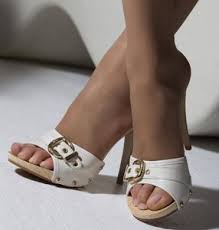 So why not follow in the footsteps of Royalty and try some classy summer sheer or ultra sheer pantyhose for dressy occasions this summer. Your legs will love them and so will you!