At Undiewarehouse.com.au , we understand the challenges of the plus size woman. In fact, we made sure to have a lot of underwear choices that are pretty as well as comfortable. We believe that you can have both, and are set to prove it with our collections by Berlei, Voodoo, Bonds, and other great brands. There's no question about it; people in the developed countries are getting bigger and Australia is no exception. The average Australian woman weighs 70 kilos and wears a size 16. However, a lot of shops only carry up to a size 12. That's why we went on a shopping trip on your behalf. For you, the real women of Australia, the ones we meet every day at the mall, the office, and in the grocery store, we scoured the best designer brands. We understand your frustration with labels that arbitrarily decide that if you're a little curvaceous, you don't get to wear their stuff. This trend of only using runway models that are extremely skinny is a modern one. If you look at classic Greek statues or painting models by the masters, you'll notice that they have beautiful, sensual curves. Prior to the industrial revolution, a bony figure was a sign of poverty and undesirable. Even today, in certain cultures, roundness is preferred. Could you imagine looking at a size 6 model and trying to fit her with words such as goddess, voluptuous, and Amazonian? Doesn't compute, right? So, we've put together is wonderful collection of bras, panties, and tights for you, the full-figured beauties. Check it out here.  As you can see on this page, we've chosen some sexy bras that support a fuller bust. 1) For those who prefer a wire-free bra, take a close look at our Berlei embroidered bra  which features soft cushioning panels, wide shoulder straps, and excellent support. Its lovely design is very feminine.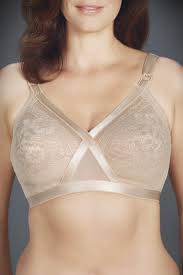 2) Gotta have that wire support? We understand, and that's why we carry a gorgeous lacy little number by Berlei  . With its clever cup seaming and reinforced lower cup, you'll have exceptional support. This outstanding bra features delicate lace and is offered in sizes up to 24DD.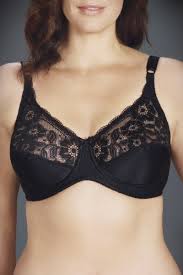 3) Invisible and comfy can be found in our Barely There Contour bra . With its specially designed cups, this bra is amazingly comfortable. You will forget you're wearing it as its padded back closure, self-covered straps, and double-layered back make it a joy to wear.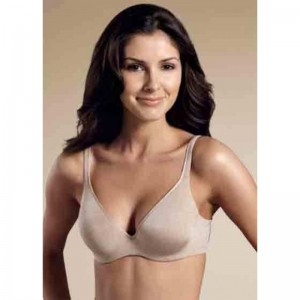 What about bottoms, you say? Yes, of course, we have you covered. Stay tuned for next week's blog to discover our fabulous collections of panties and tights.