As promised last week, we are delighted to talk about the yummy corsets you can find at Undiewarehouse. This fashionable garment has been worn for centuries to shape the torso in a beautiful hourglass. It was even mandatory in the French royal court in the 1550s.
So, what exactly is a corset? Its name comes from the French and it is a fitted undergarment that cinches the waist tightly. Traditional corsets have boning and metal stays to hold your upper body, and are laced at the back. Some cover the breasts, others do not.
In the past, corsets were made of white linen, quilted and constructed with channels to encase the boning. Nowadays, corsets have evolved and are made of scrumptious fabrics such as brocade, satin, damask, sequins, or leather. They are available is many colours. Take a look at our imitation snake skin corset here http://www.undiewarehouse.com.au/wild-cherry-faux-snake-skin-overbust-corset.html . The effect is enhanced with gold sequins and it comes with its own matching g-string. Talk about the call of the wild! Tarzan, here I come!
Some of our corsets can be worn as outer garments as well. Our romantic Wild Cherry Velvet Corset  is a good example. It goes from club to bedroom without a pause. This hot purple velvet is lined in cotton for your comfort and comes with a g-string. Back laced and with a front closure, it is very soft and sensual.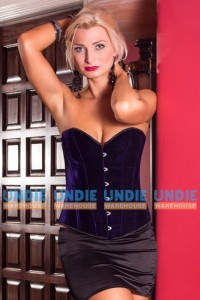 Do you fancy yourself as Catwoman? We have you covered with our shiny black PVC corset. This little number is for the adventurous and daring you. Slick and glossy, it follows every one of your feline moves. Pair it with some elbow-length gloves and the included thong for a night to remember.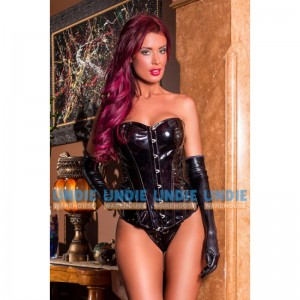 For a classic look, choose our classic satin corset which comes in red, black, white, and pink. With its simple lines, it is elegant and reminiscent of the sexpots and pinups of yesteryear. A must have for every sexy woman, this versatile garment can easily be paired with a mini skirt or skinny jeans.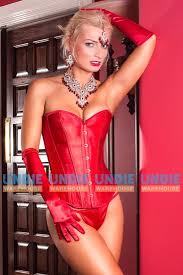 In the under bust category, we have some awesome choices too. Try out our safari zebra corset  which goes wonderfully with a peasant or a bloused top. Add in a tiny skirt or tight pants and some hot peep-toes pumps for a delicious look.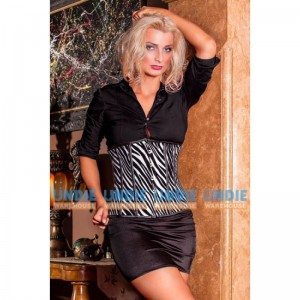 Corsets are the ultimate sexy garment for trendy club wear and beyond. Whatever you're into after lights out, there is a corset for you at Undiewarehouse.
.