Transition your Toddler from Nappies to Underwear
Every toddler will at some point say goodbye to nappies (or diapers) and hello to underwear. Here are some tips for making the transition smoothly...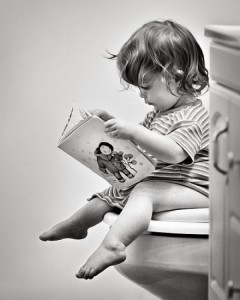 Image Courtesy of Babble.com
• Look out for signs of readiness for potty training in your toddler. These include staying dry consistently for three hours at a time; being able to verbally communicate needs effectively; demonstrating an understanding of simple requests and instructions; disliking being in soiled nappies; and exhibiting an interest in potty training. • Buy some new "grown up" underwear for your toddler. Make an expedition of it and allow them to participate in the selection process. He or she should be able to pull these up and down themselves. • Don't push or force the issue. Encouragement in the form of having a potty in each bathroom goes a long way. Talk about using the potty/toilet instead of needing nappies. Allow your toddler to watch other family members (particularly of the same sex) use the toilet to demonstrate this is what "big" boys and girls do. • Allow your toddler to ask to wear the underwear you have bought for them. Too much pressure to do so may lead to resistance. • Remain positive about the entire process and offer encouragement and reinforcement. Remind him or her about whether they need to "go" regularly. • Never get angry about "accidents". These are an inevitable part of learning. • Make sitting on the potty fun and offer the chance to do so frequently. Take a book. Sing songs. Have a chat. Offer praise when successes happen. • Buy a toddler toilet seat when transitioning from potty to toilet. Toilets can be scary to little people with little bottoms who can fall in easily! • Use pull-up diaper pants during nap time and night time until dryness is the norm. Many children are not consistently dry at night until aged five or six years. Here at Undiewarehouse, we have a range of briefs for both little
boys
and little
girls
from Australian icon, Bonds. Bonds create comfortable cotton undies that are perfect for growing little bodies, and we offer these at the very best prices available online.