If you haven't explored our accessories , you'll be surprised to find all the nifty fillers and clever enhancements we offer. At Undiewarehouse, we thrive to provide the best and most practical little extras. We have searched for reliable suppliers and bring you all those hard to find gadgets that a woman might need. Let's talk about bra fillers. Bra inserts are the easiest and most popular way to increase your bust size and form an enhanced, plunging cleavage. Lighter than real breasts, they do not hurt your back while still looking fabulous, and they stay in place even if you're dancing or swimming energetically. We carry several types so that there's something for everyone. We have both silicone and foam fillers. Very comfortable, these give you the lift you need. They can be worn under your breasts to give a push-up effect, or on the outer sides to give you more cleavage. Designed to be worn inside your bra cups, they are very discreet. They can also be worn at the pool or the beach, inside your swimsuit. They are chlorine safe and salt water safe, so you can swim in style. Choose from the oval design or the slightly larger half step  to suit your needs. Another popular item is the foam bra filler which also creates a sexy cleavage with great lift. In a natural colour, these pads will be invisible and look very natural. Easy to wash and long lasting, you will love them!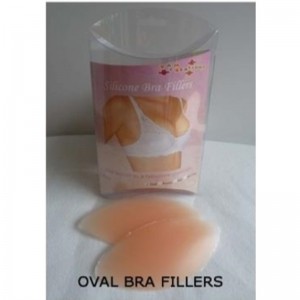 Another popular product is the stick-on bra. It's great for weddings or any time you're wearing a backless dress. Low cut and impossible to detect, these are a delight to wear. We have the lightest of them from Bassoni, a brand you know you can trust  . Strapless and seamless, we carry it in nude, a great colour that just disappears so nobody will know you're wearing it. It is washable, so you can use it over and over. If you're looking for a black adhesive bra, we have the Yam Creations wing bra  which is awesome. Very light, it features underwire support and contoured cups for superior lift. The side wings are hypoallergenic and adhesive so it stays in place for a long time. This is a must for that hot strapless little black dress or that yummy backless silk top.
For those women who do not need the extra padding, we have you covered (so to speak)! We carry a variety of supporting adhesive cups such as the discreet line here. These are great for support without adding a size. They lift and hold beautifully, and are available in lacy beige, plain beige, or black to suit any low-cut top or dress. Be sure to check our size charts to ensure that you will be completely satisfied with your purchases. Some manufacturers have slightly different standards, so a few seconds to confirm your size will be money well spent.